Things to do in the Cotswolds
Accommodation
For stunning lakeside accommodation less than 10 minutes drive from Cirencester.
Visit Beautiful Cirencester
Cirencester, otherwise known as the Capital of the Cotswolds, is the largest and most quintessential of the Cotswolds towns, rich in Roman heritage and charm. There are many independent shops, restaurants and the weekly Charter Markets, centred around the beautiful Market Place. The Charter Market is a local institution where amongst others you will find fresh local delicacies, artisan cheeses and nibbles, fresh fish and great coffee. For a meal out there are many popular establishments to choose from, whether you are looking for a traditional pub lunch or fine dining. Some personal favourites of ours are Made by Bob, Cote Brasserie and the Fleece Inn. For coffee and superb breakfast/lunches try Jacks or Temple Mama. The roof terrace at the Kings Head is great for sundowners!
There are lots of green wide open spaces to enjoy with the children or dogs, Cirencester Park and The Abbey Grounds to name a few. The Bathurst Estate boasts a 300-year-old yew hedge, said to be the tallest hedge in the country at over 40 ft tall! Cirencester Park Polo Club is a great day out, be it with a family picnic whist watching a chukka or a Pimms in the clubhouse bar.
For stunning lakeside accommodation less than 10 minutes drive from Cirencester, please click…
Walk the Cotswold Way
This National Trail is a World famous walk, offering over 100 miles of scenic strolls and panoramic views of the countryside. The route runs from Bath all the way to Chipping Campden, but there are also many shorter walks within the trail for those who don't want to go the full stretch. Notable spots along the way include Cleeve Common, Winchcombe, Stanton and Snowshill.
Other local towns and villages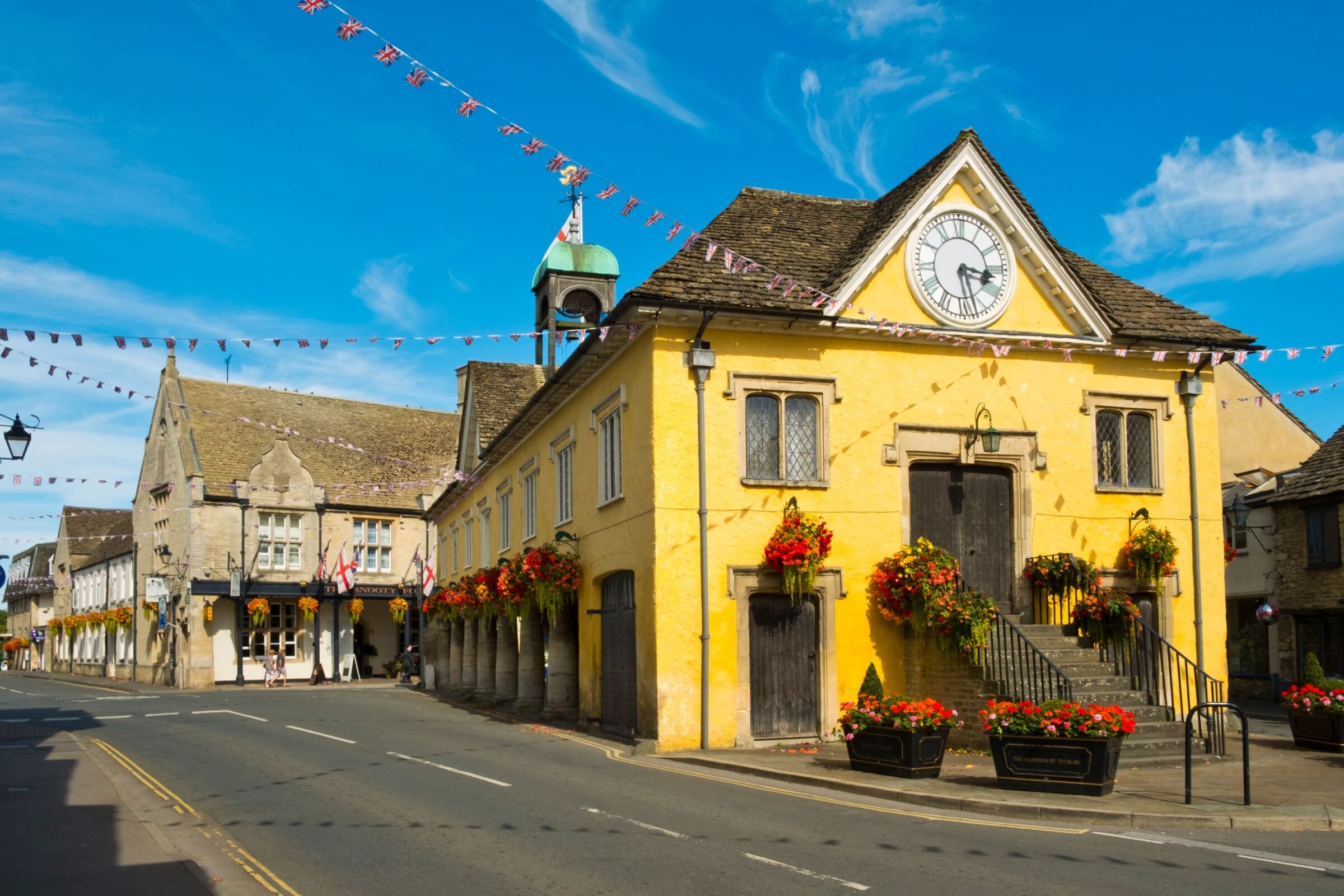 Tetbury, a historic wool town, is the southern gateway to the Cotswolds. The town is known as an architectural gem with many of the wool merchants' houses remaining the same as they were in the 16th & 17th centuries during the height of the town's prosperity from the wool trade. Tetbury is well-known for its independent shops, including antiques, vintage & interiors, exclusive boutiques & the Highgrove shop.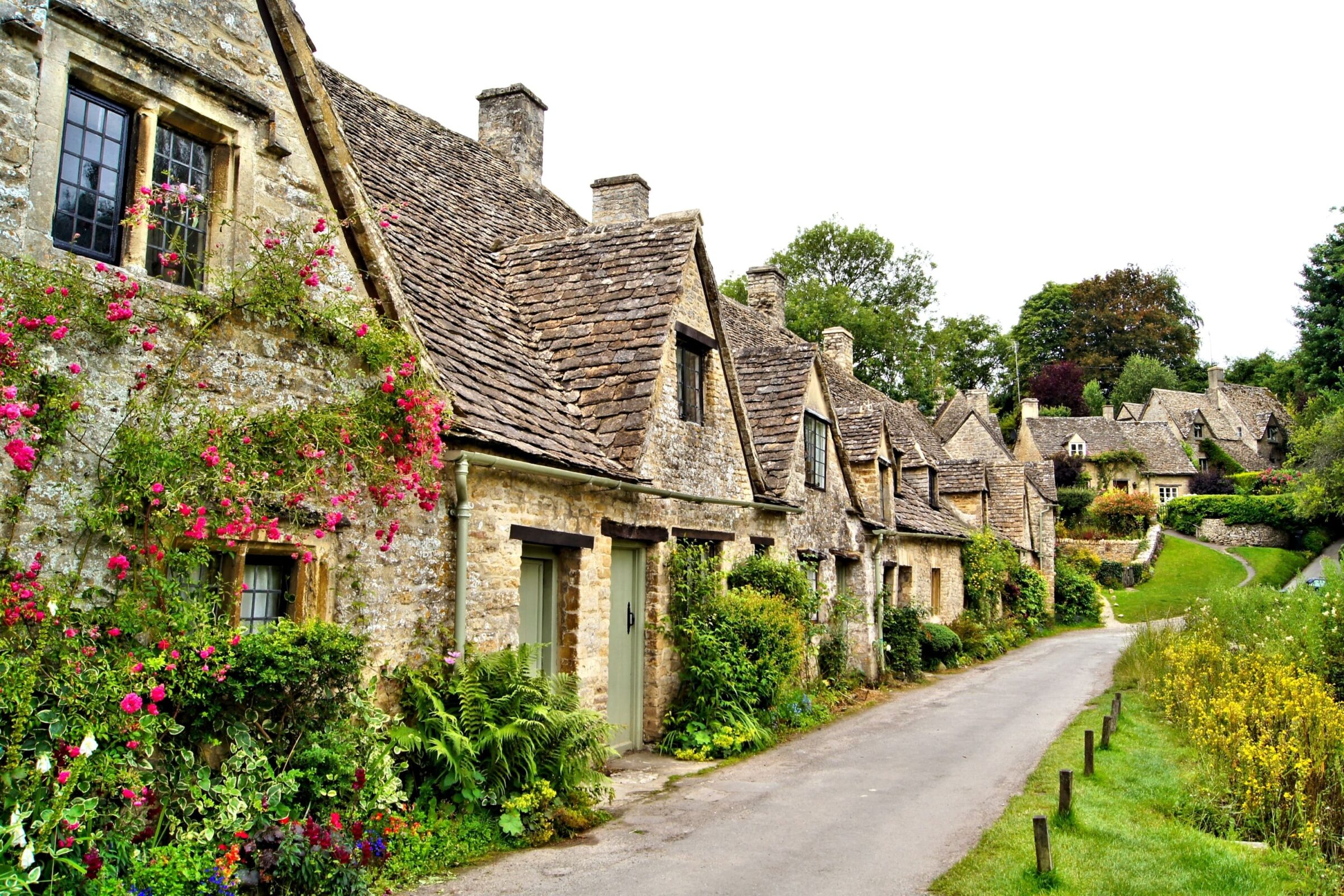 Bibury, "the most beautiful village in England" is a charming, typically Cotswold, village just a short drive from Cirencester. Bibury was once described by William Morris (1834-96) as "the most beautiful village in England". And the cottages of Arlington Row are often referred to as the most photographed and beautiful cottages in the country.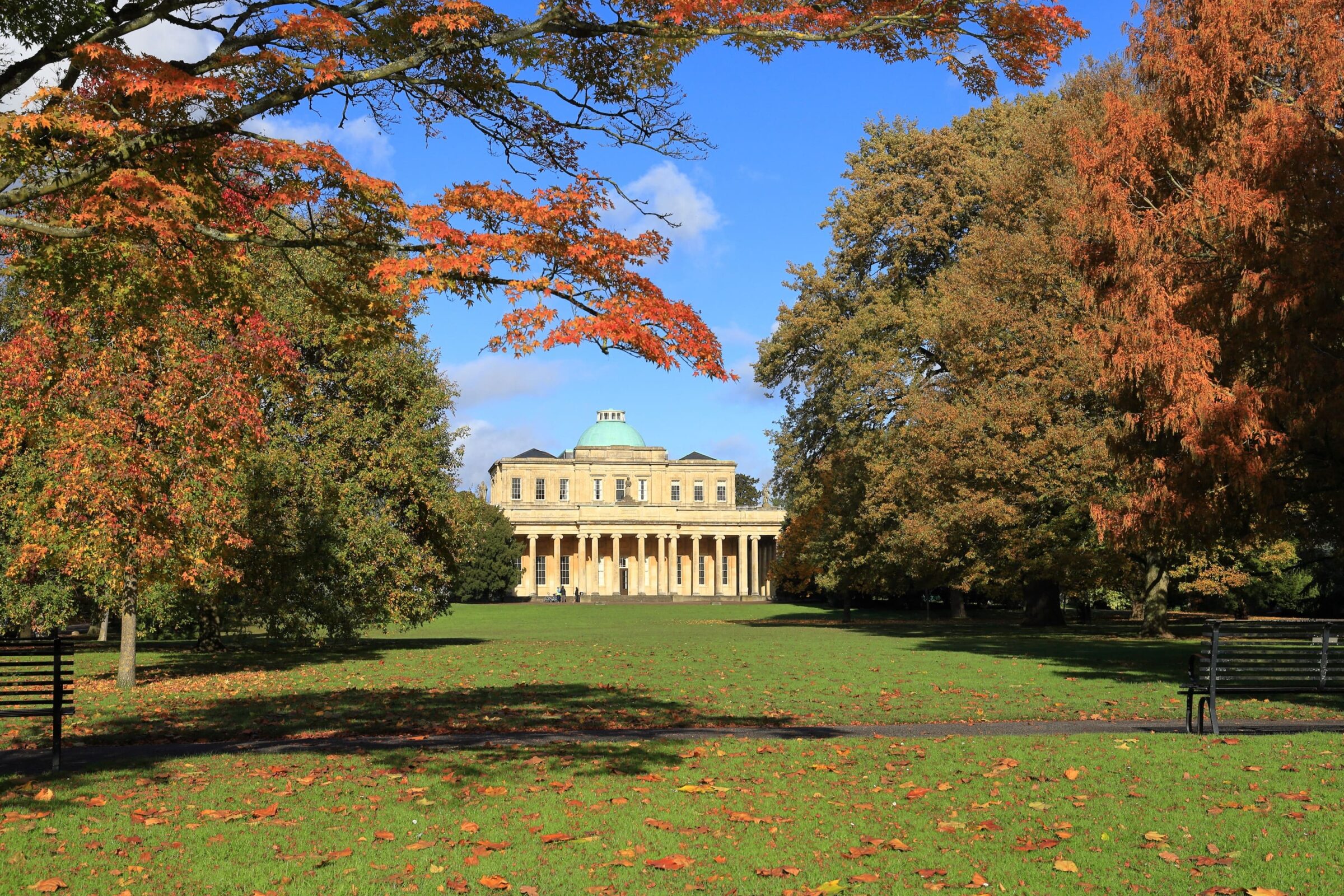 A wonderful mix of the traditional and the new, Cheltenham nestles against The Cotswolds as the perfect place to unwind and refresh your mind, body and soul. With unique festival vibes, an abundance of independent and much loved High Street shops, and incredible dining experiences from street food to Michelin starred fine dining. Cheltenham truly is a must-visit town.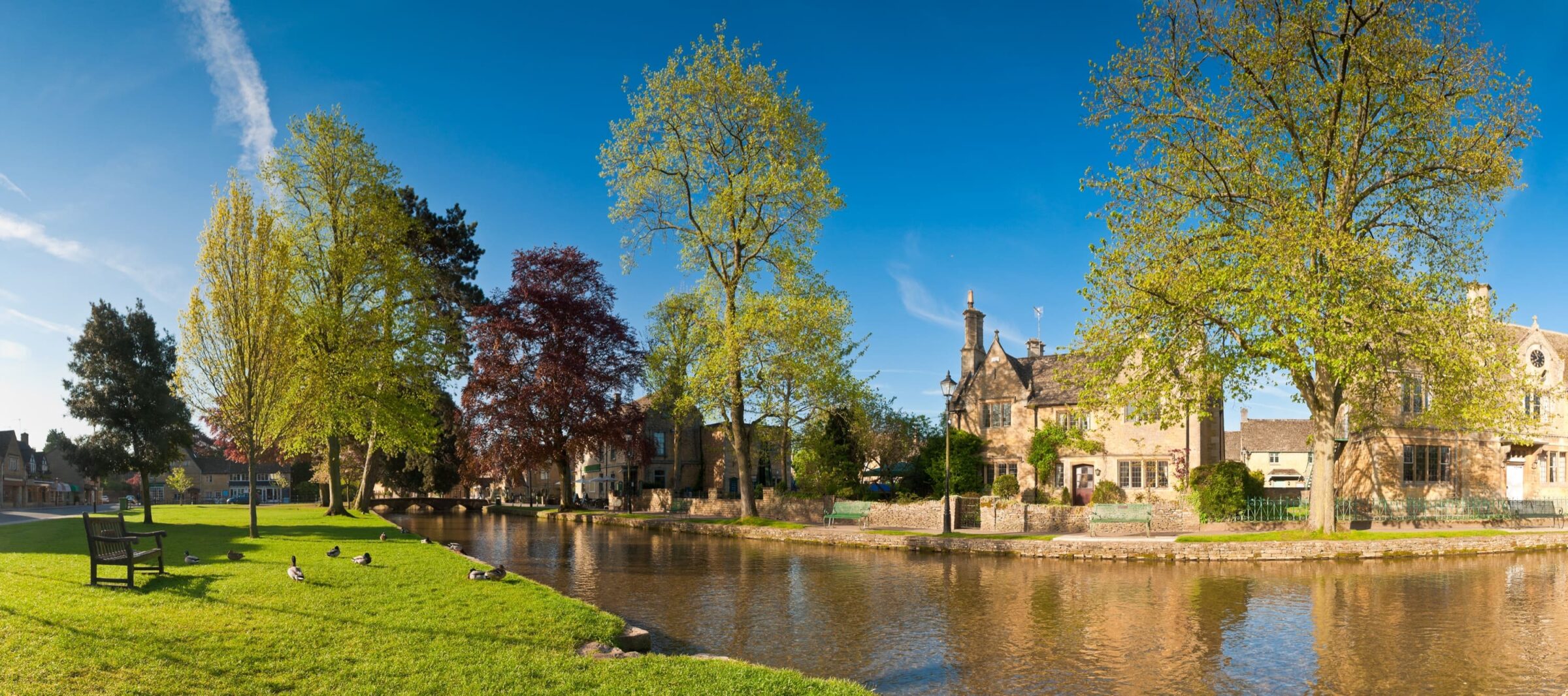 Bourton-on-the-Water is a charming village in the rural Cotswolds area of south central England, , known as the Venice of the Cotwolds. Straddling the River Windrush, it's known for its low bridges and traditional stone houses. The Cotswold Motoring Museum features vintage cars and a toy collection. Birdland is home to species including parrots, owls and king penguins, plus life-size model dinosaurs. The Model Village is a 1930s scale replica of the village.
Burford's famous High Street sweeps downhill towards the River Windrush, its three-arched medieval bridge and its impressive church, both sides of the street flanked by an unbroken line of ancient houses and shops. Little has changed over the centuries, Burford is popular with visitors, both for its beauty and history but also for its shopping, especially antiques, and for the wide variety of places to eat, with restaurants, pubs and teashops. Half way down the hill, the 16th century Tolsey building, once the meeting place for medieval merchants, now houses The Tolsey Museum, a delightful, local museum illustrating the town's social and industrial past.
A beautiful Cotswold town with plenty of really good restaurants. A good base for lots of scenic walks. Stow-on-the-Wold is a market town and civil parish in Gloucestershire, England, on top of an 800-foot hill at the junction of main roads through the Cotswolds, including the Fosse Way, which is of Roman origin.
Days out with the Kids
While there are numerous destinations and activities to enjoy around the Cotswolds, here are a few we've enjoyed…
The Cotswold Wildlife Park is a fantastic day out for all the family. Stroll around the Park & Gardens, enjoying uninterrupted views of the animals, so it feels as though you are in a wild setting. Watch the daily Lemur & Penguin Talks, take a ride on Bella the Train (extra cost) or explore the large adventure playground, with treehouses and slides. The Park is home to more than 260 species of animals and 120 acres of beautiful parkland. Watch Rhinos graze on the lawns in front of the Gothic Manor House. Walk up the Giraffe walkway and get eye-to-eye with these amazing creatures or explore the Old Walled Garden's Tropical House with free-roaming sloths, birds and bats.
Sitting in the heart of the Cotswolds, Adam Henson's Cotswold Farm Park has a long-standing reputation for a fun-filled day out. Visitors of all ages can interact closely with the animals and learn about farming, past and present. As the home of rare breed conservation, visitors can meet over 50 flocks and herds of farm animals, including Gloucestershire Old Spot Pigs and Highland cattle. The Animal Barn, Adventure Barn and Discovery Barn can be enjoyed all year round, as they are under cover and protected from the elements. With an adventure playground, farm safari, maze and jumping pillows, there's lots of entertainment for children of all ages. The on-site restaurant, serving seasonal food and Adam's own beer, is a hit with the adults. There's plenty to offer outside the Farm Park too. Experience the stunning diversity of animals and plants by completing our two mile wildlife walk, or extend your stay by booking a pitch on our campsite.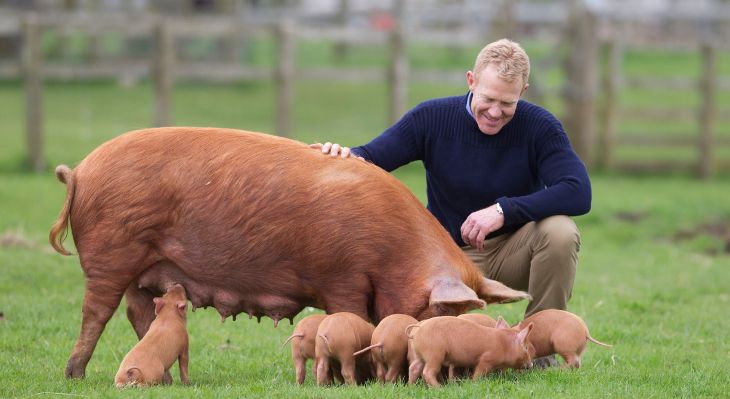 Roves Farm – a great family day out, come rain or shine! A full programme of events throughout the day includes: Meet and Feed the Farm Animals, Pets Corner, Animal Racing during weekends and school holidays, Free Tractor and Trailer Rides, Children's Crafty Sessions, Heated Play & Activity Barn with Soft Play, Sandpit, Giant Slide & 'Rabbit Warren Tunnels', Ball Pond, Bouncy Castle, Pedal Tractors & Childrens Crafts, Den Building in two acres of Willows.
Westonbirt, The National Arboretum, managed by the Forestry Commission, is one of the finest collections of temperate trees and shrubs in the world. The 600 acre arboretum is home to 2,500 different species of trees and over 15,000 individual specimens. Westonbirt offers an unforgettable day out in all seasons – from the magnolias and rhododendrons in spring, the green leafy glades in summer and the autumnal colour explosion of the world famous Japanese maples. Events, workshops and family activities run throughout the year. Signature events include Treefest in August and the spectacular Enchanted Christmas illuminated trail in November and December.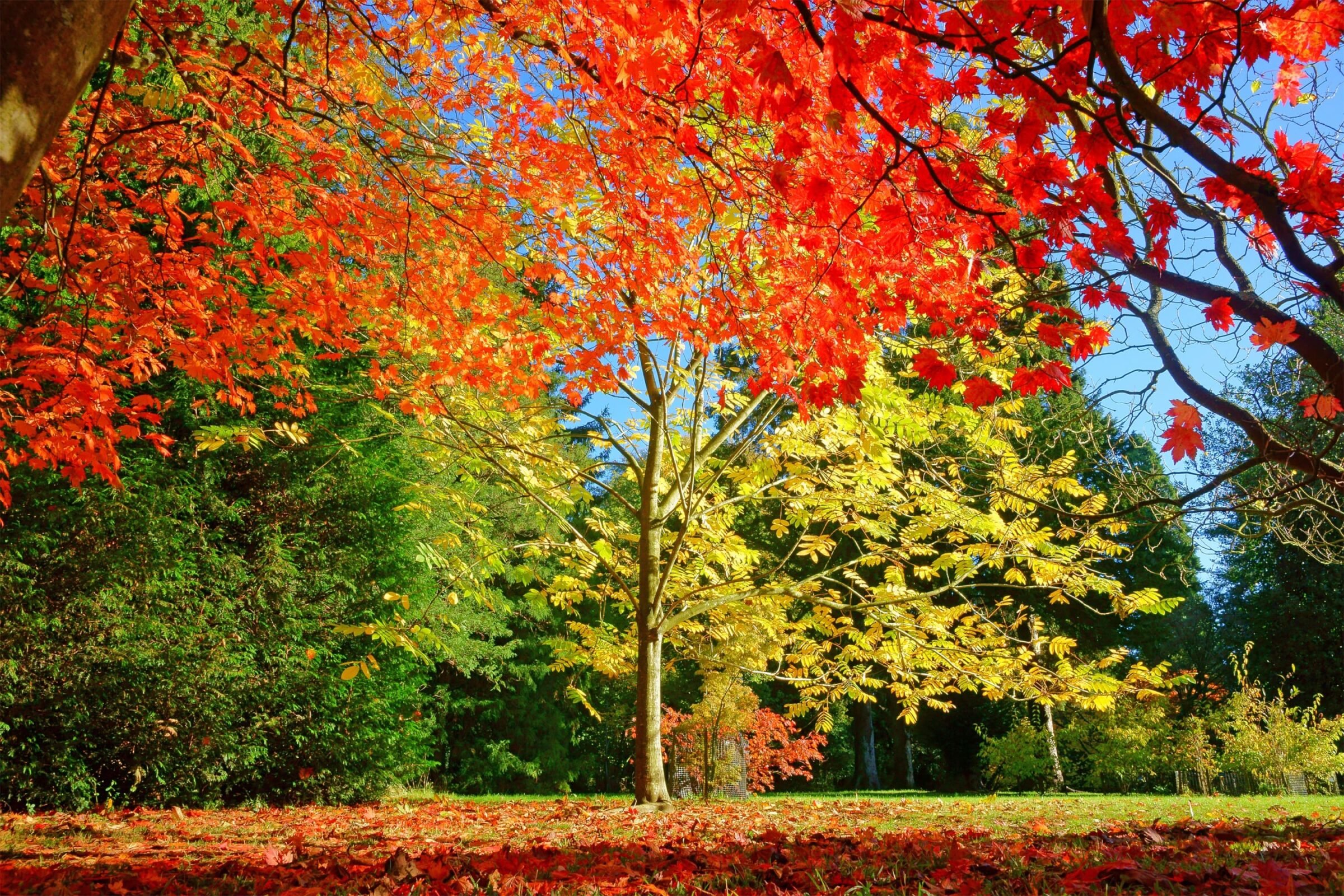 There's something for everyone at WWT Slimbridge from birdwatchers to families. With amazing close-up wildlife encounters, fun events and activities it's no wonder we're an award-winning day out! Grab your bag of seed and have our ducks, geese and swans eating out of the palm of your hand. Save some seed for the nene, the world's rarest goose. Look out for all six species of flamingo across the site. Come and meet our otters for their daily feeds. Listen to our amphibian talks and find out more about the wonderful world of wetland toads, newts and frogs – you might even get the chance to hold one. Splash around in our outdoor wet playground, Welly Boot Land.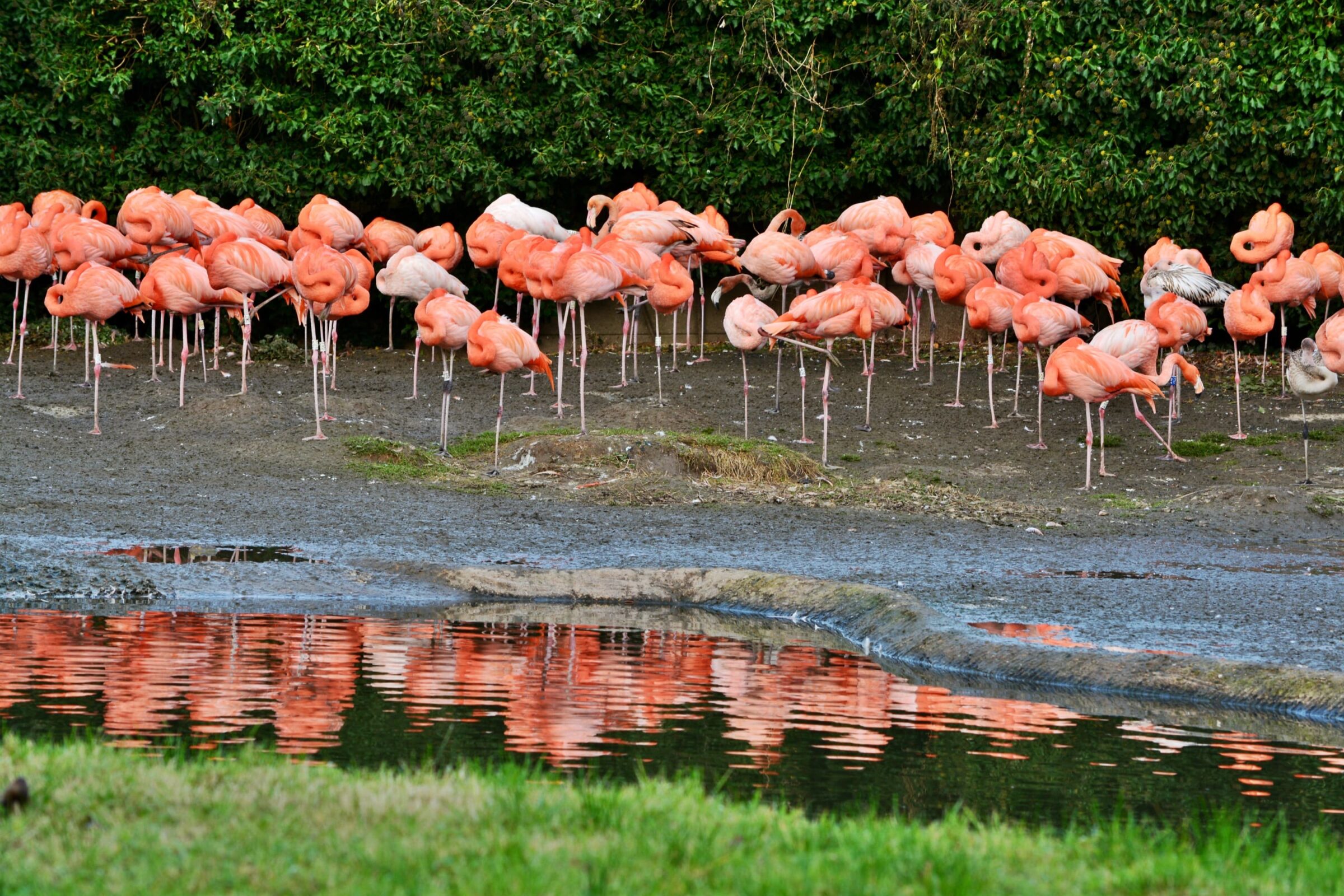 Home to the 12th Duke and Duchess of Marlborough and birthplace of Sir Winston Churchill, Blenheim Palace is a masterpiece of Baroque architecture that boasts over 300 years of history to discover. This World Heritage Site is set within more than 2000 acres of Parkland landscaped by 'Capability' Brown, and the Palace itself houses some of the finest collections of antique furniture in Europe. Situated in Woodstock, just 8 miles from Oxford, Blenheim Palace is Britain's Greatest Palace and offers visitors a precious time, every time.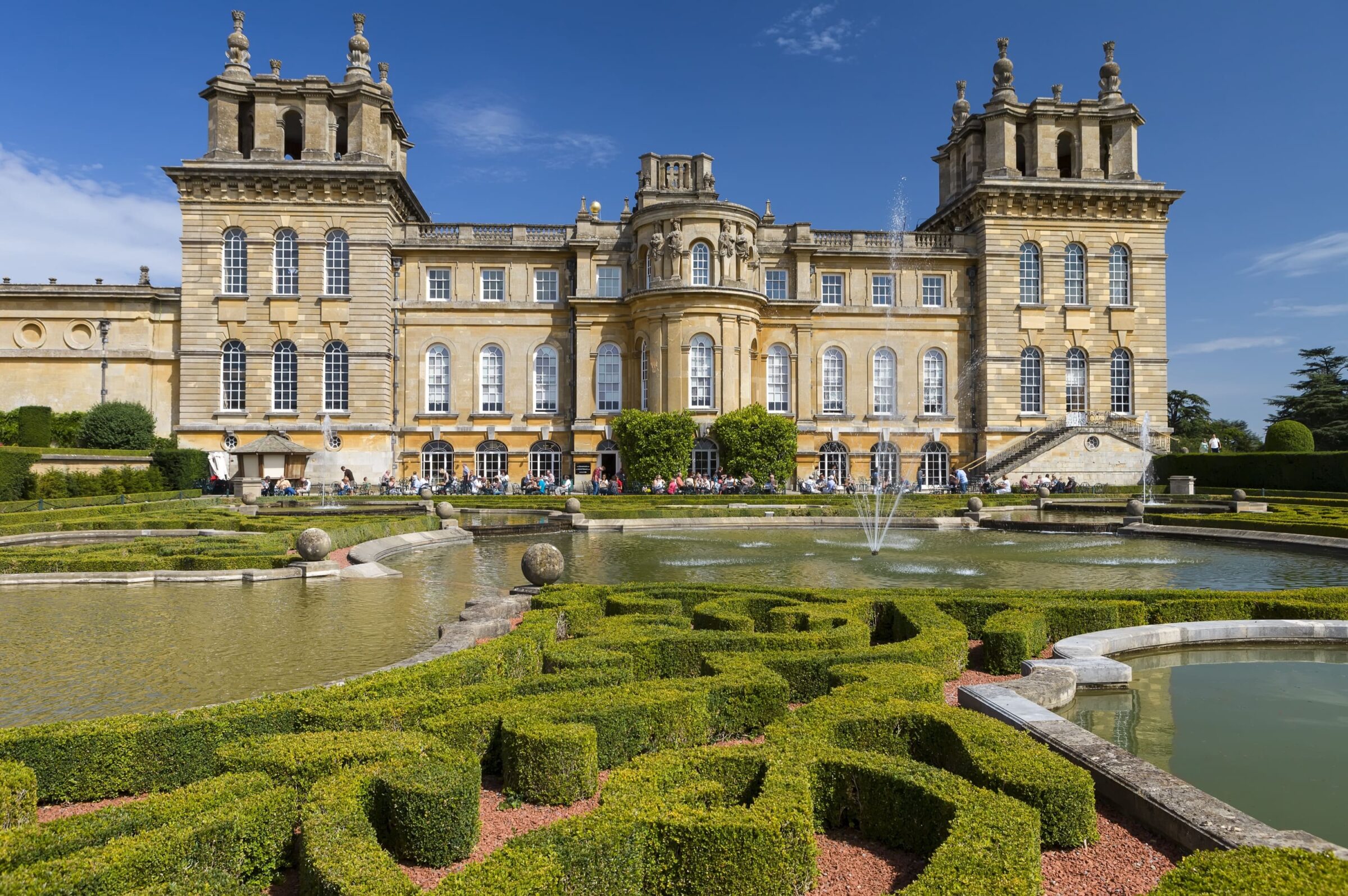 Sudeley Castle's exhibitions tell the story of its royal past, Castle rooms, romantic ruins, award-winning gardens and 1000 years of fascinating history, which nestles in the Cotswold Hills in the historic town of Winchcombe, Gloucestershire. Sudeley is the only privately owned home in England to have a Queen (Katherine Parr, Henry VIII's sixth and last wife) buried within the grounds. Witha restaurant serving delicious lunches, café, shop, play and picnic area, children's Adventure Playground (voted best in Gloucestershire), Pheasantry and a packed programme of events throughout the season, there is something for everyone at this must-see Cotswolds attraction.
Enter a land of adventure. Where lions roam. Tigers stalk. And monkeys swing. Travel through time in a grand stately home. Lose yourself in one of our magical mazes. Hold exotic creatures from the ends of the Earth. This is Longleat. Jump in.
Uncover the story of Stonehenge. Take in the unforgettable atmosphere of this World Heritage Site and best known prehistoric monument in Europe, visit our world-class exhibition to discover how the Stonehenge builders worked and walk amongst the Neolithic houses to experience how they lived.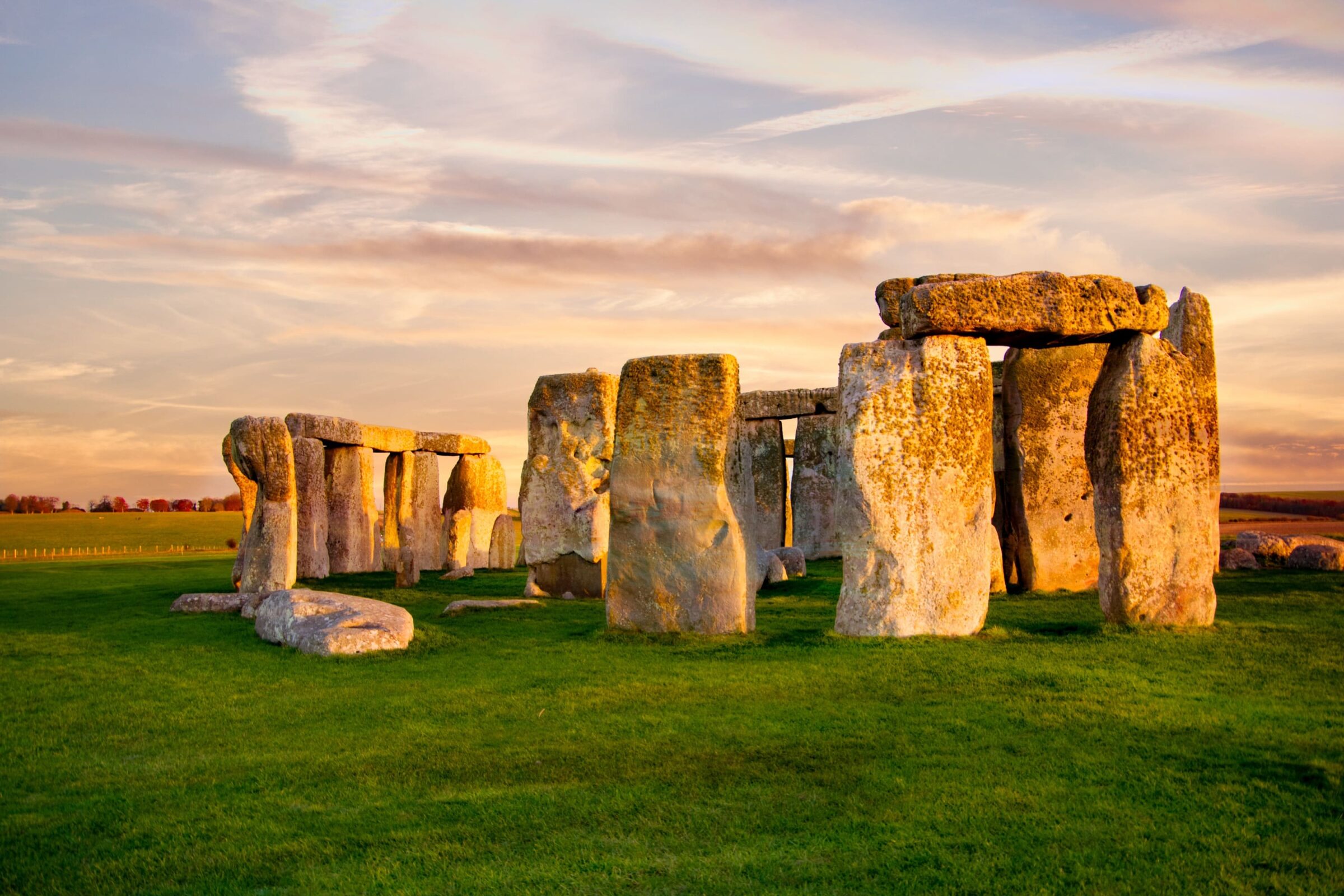 Avebury is a Neolithic henge monument containing three stone circles, around the village of Avebury in Wiltshire, in southwest England. One of the best known prehistoric sites in Britain, it contains the largest megalithic stone circle in the world. It is both a tourist attraction and a place of religious importance to contemporary pagans.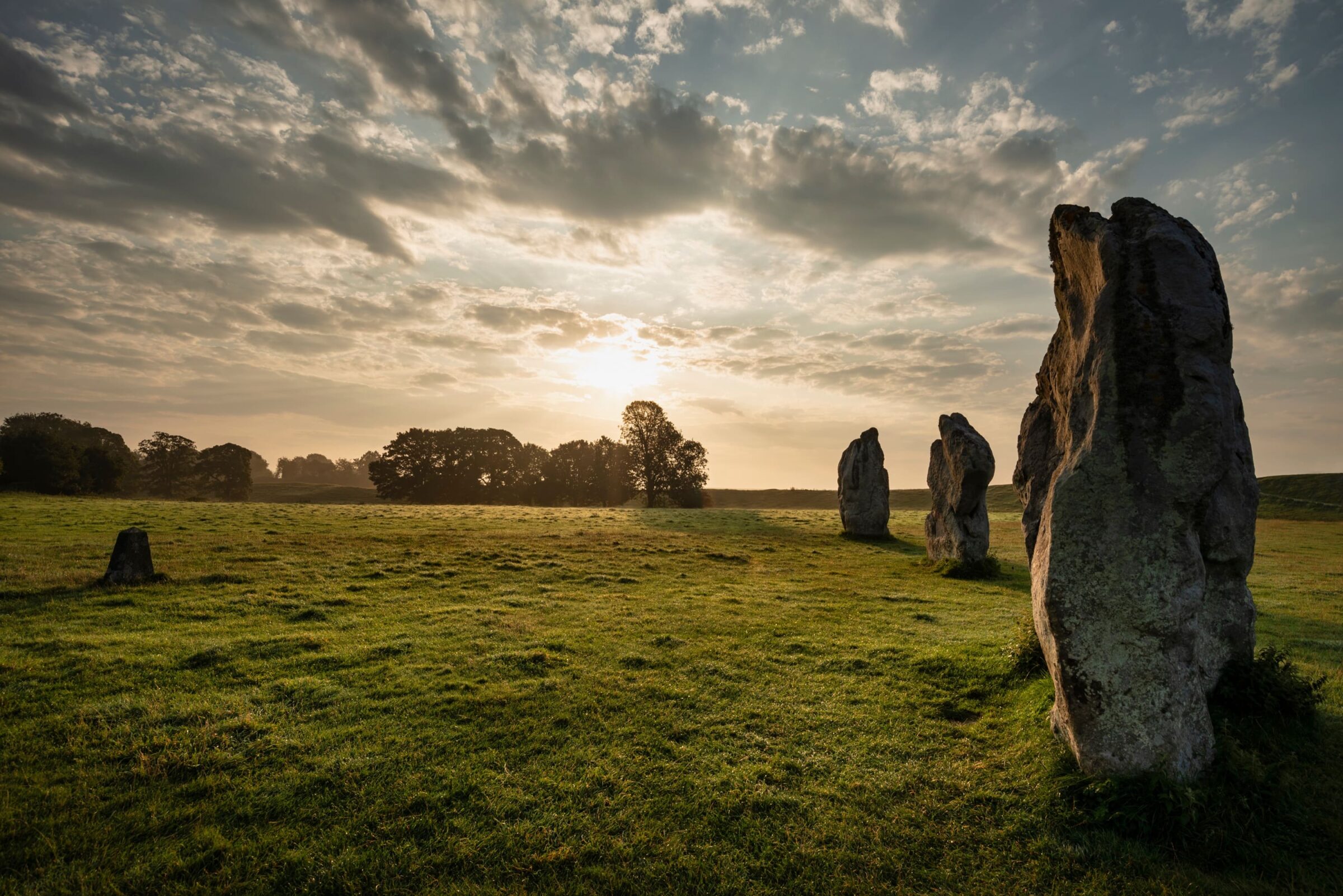 Harry Potter fans love Lacock Abbey, in Wiltshire, which stood in as Hogwarts for two of the films. Challenge your friends to a wizard duel, play hide and seek in the grounds and pick up a family trail to explore the area.
Painswick Rococo Garden is quirky and pretty unique. Designed in the 1740s as a fanciful pleasure garden for the owner of Painswick House and his guests, today it's a place to roam free, to get up close and personal with nature, or to feel the warmth of the sun on your face as you take in the spectacular views of the Cotswold countryside and magical follies.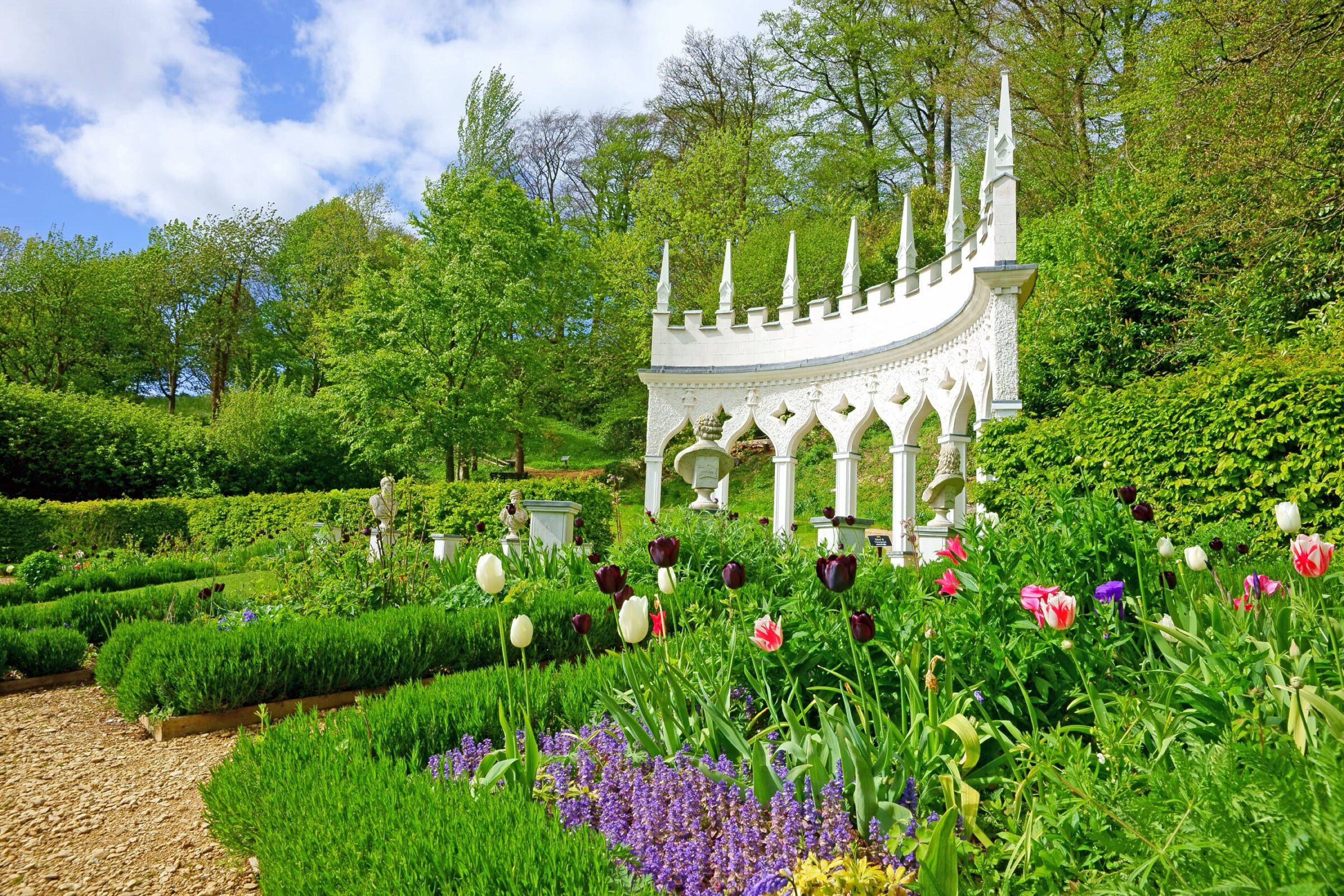 Special Summer Treat! Giffords Circus!!!
Giffords Circus, a fast evolving national treasure, returns with their eagerly awaited tour My Beautiful Circus. The unique show inspired by the 250th anniversary of Circus, will tour the Cotswold and beyond and will amaze audiences with performances that ooze drama, exuberance and style. Established in 2000 by Nell and Toti Gifford, Giffords Circus is renowned for its eclectic circus theatre fusion style. Its unique blend of bohemian artisan entertainment combines dance, comedy, acrobatics, juggling, live music and domestic animals. Over the last 18 years the circus has amassed a loyal following, performing to over 800,000 people. Their signature burgundy and gold showman's wagons and billowing tent have become a summer staple on village greens and in market towns.
Hannah Hollowood Sports & Remedial Massage Therapy
Hi, I'm Hannah and I run a sports massage clinic from my home in the Cotswolds. If you would like to indulge in a relaxing and restorative massage whilst on holiday, then I offer a mobile massage service to the comfort of your lakeside retreat in Lower Mill. Please contact Suus, Amy or me directly to enquire.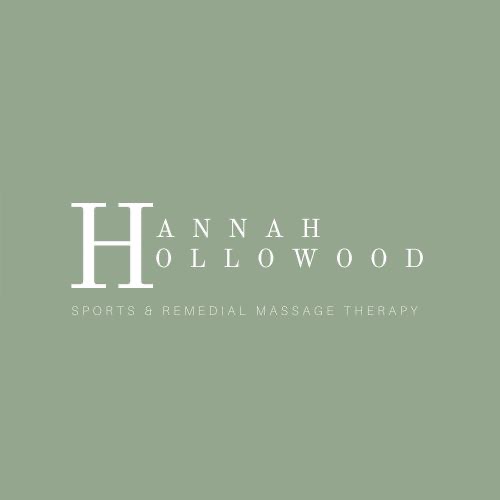 Bespoke Best Cotswold Tours
Explore the very best of the Cotswolds with Best Cotswold Tours. Enjoy this Area of Outstanding Natural Beauty, where time has stood still for 300 years. Wonder at the quintessential countryside with its rolling hills and honey-coloured cottages and quaint historic villages. A day with Best Cotswold Tours will be a fun day to gain an insight into Cotswold Life. A private tour is the best way to experience the beautiful Cotswold scenery and explore the awe-inspiring hidden gems of a Cotswold landscape. Take the stress out of planning a trip; Dispel any anxiety of driving on the "wrong side " of the road. Mark, Cotswold born and bred, and who has unprecedented and passionate knowledge of the area will guide you not only to some popular destinations but also to some secret quiet spots. Travel in luxury and comfort in a vehicle that will carry up to 7 guests and luggage. Each tour is tailored to your requirement and will be at your speed. You will not be sharing the day with anyone else.
Cotswold Country Park & Beach
Located within the Cotswold Water Park, minutes from Cirencester, the Cotswold Country Park & Beach is a wonderful day out for all to enjoy. Wibit AquaVenture – The inflatable WaterPark – Jump, splash, slide and bounce on the greatest activity to hit the Cotswolds. For the ultimate adrenaline rush, leap from Vertigo Adventures. Head to the soft sandy inland beach with lifeguarded lagoon all summer long. Enjoy lakeside walks, delicious food from Salads to fish & chips & stone baked pizzas to beachside burgers, cakes & ice creams or hire a BBQ pitch and enjoy a picnic. The lake offers fun for all from pedalos and rowing boats, electric Mini port boats. Paddle out on a kayak, SUP with single and tandems available. There are plenty of activities on-land too, from mini golf and adventure playgrounds to climbing walls and volley ball.
Dining Out
We have collected a list of our favourite places to eat, we hope you like them too!
Whatley Manor – a luxury manor house hotel set in a beautiful Cotswold Countryside. Executive Head Chef Niall Keating oversees the The Dining Room and Grey's Brasserie. The Dining Room is two Michelin-starred dining, serving dinner from Thursday to Sunday and is the perfect setting for the sublime menu Niall and his team produce. Greys Brasserie has a warm and relaxed ambience that compliments new menus that include sharing boards and grazing dishes and a full a la carte menu that frequently changes to reflect seasonality. Afternoon Tea is always a special experience, a traditional service of sandwiches, fluffy scones and delectable cakes & sweet treats elegantly served. Click here for more information
The Potting Shed is a dining pub situated in the nearby Cotswold village of Crudwell. It offers a fantastic menu, coupled with great beers on tap, an interesting wine list and a wonderful, welcoming beer garden with heated outdoor seating. The food is second to none and they are currently offering a fabulous takeaway service. Click here for more information
The Rectory is the sister hotel and restaurant to the Potting Shed located just over the road from the pub. It has a contemporary and relaxed atmosphere serving classic food with a contemporary edge, presented and served in the elegant dining room and striking glasshouse. Jackets are definitely not required; make yourselves at home. They offer a separate lunch menu Monday to Saturday and our a la carte dinner throughout the week. Click here for more information
The Red Lion at Castle Eaton is the first pub on the River Thames: a real village pub with cosy corner snugs and log fires, a place for foodies in our stunning garden room overlooking the landscaped beer garden and river also offering a private dining room for families and occasions. Click here for more information
The Bakers Arms is the closest pub to the Lower Mill Estate, within walking distance in the village of Somerford Keynes. A family and dog friendly country pub that is often visited by guests who enjoy their good food and the wide range of beers and real ales available. The pub also boasts a large beer garden and ample parking. Click here for more information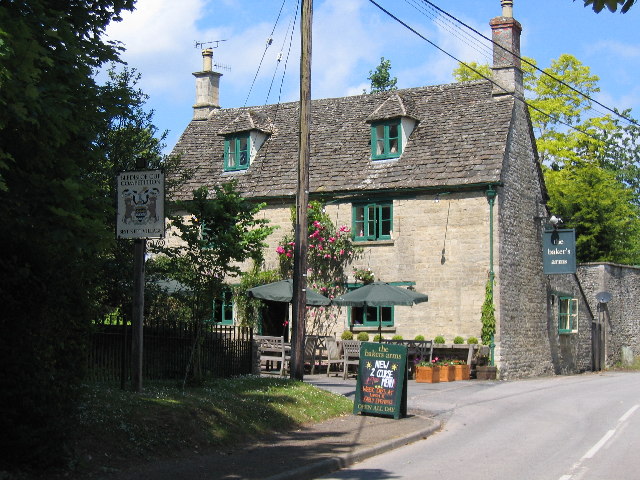 The White Hart pub in Ashton Keynes is situated just off the Thames Path and run by locals who love their beautiful village and offer a warm welcome to all. The pub offers tasty, honest pub food all cooked in-house at reasonable prices. There is a choice of light lunches, more substantial meals, Chef's specials, Sunday roast dinner, authentic Indonesian curry nights and Tuesday fish and chip nights.
The Painswick sits very prettily in the "Queen of the Cotswolds" village of Painswick. Presenting roaring fires, sink-into-me sofas and the delicious decadence of a Painswick Afternoon Tea… It's snugly nestled into the hillside, where rolling valley views and cheeky cocktails are calling you to the terrace. Curl up, kick off those wellies and treat yourself!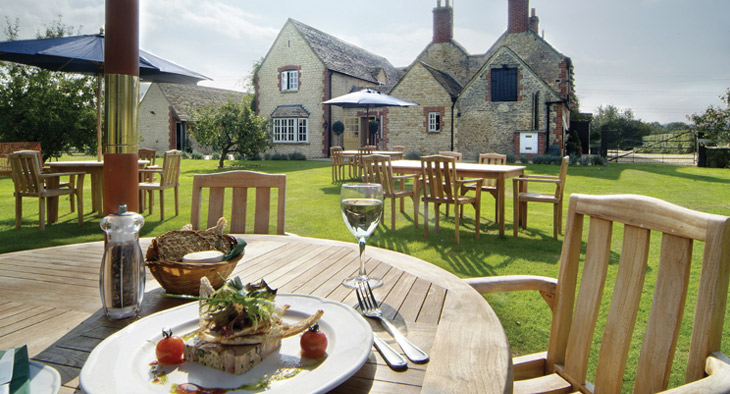 The Bell at Sapperton is an independent, family owned, beautiful country pub, situated in the heart of the Cotswold Hills Area of Outstanding Natural Beauty in the sleepy and picturesque village of Sapperton. They are multi-award winning and particularly well known throughout the region for their food, whilst proud of still being a top notch pub in every sense of the word. The pub is still a hub for the local community. Surrounded by invigorating walks, horse rides (they provide 'Horse Parking' too!) and bike rides makes a visit to this pub can be a full day out. Roaring log fires and cosy corners in the winter, and a beautifully landscaped garden and courtyard for summer means the Bell has something for all seasons.Relaxed hospitality and consistently great pub food prepared with fresh, seasonal and regionally sourced ingredients.
The Gumstool Inn Calcot is set in the 700 year old grounds of Calcot Manor; an attractively converted outbuilding with a laid-back pub vibe and plenty of rustic character courtesy of exposed beams and flagged floors. The accessible menu centres on pub favourites. Start with a drink on the appealing terrace.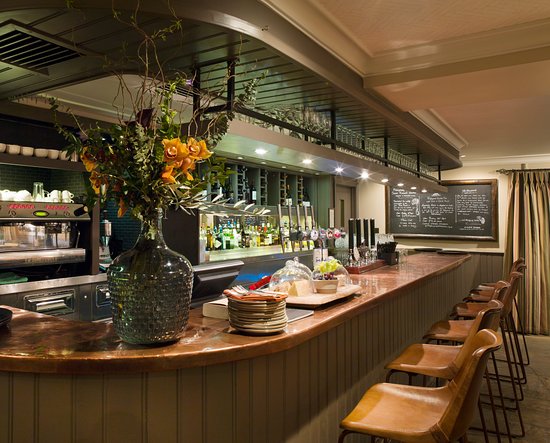 Both breakfast and a gourmet lunch and dinner are served in The Conservatory Restaurant in Calcot, overlooking the extensive grounds and filled with natural daylight. Cheffy without being pretentious, The Conservatory menu is filled with appealing dishes from a classic chicken and duck liver parfait, pear chutney toasted brioche to up-to-date combinations such as roasted gilt-head bream served with curried cauliflower lentil dahl and seaweed butter.
Burford Garden Centre has an excellent café, high quality plants, chic garden/home accessories, a gift shop and children's toys with local produce and art for sale. We call it the Daylesford of garden centres! If we fancy a trip to Burford Garden Centre we set aside a whole day for the visit and everyone in the family has to hear about it, like when someone takes a trip to Ikea.