Dunnock House
A large lakeside holiday home, perfect for extended families
63 Clearwater, Lower Mill Estate, Cotswolds
Dunnock House is a well presented, spacious, detached property in a prime waterside location, which sleeps 8 comfortably over 3 floors, set in a traffic free location with a small footbridge leading to the property. Contemporary light and airy accommodation, perfect for a holiday for a large or extended family.
"Perfect escape from London and not even mixed weather could ruin"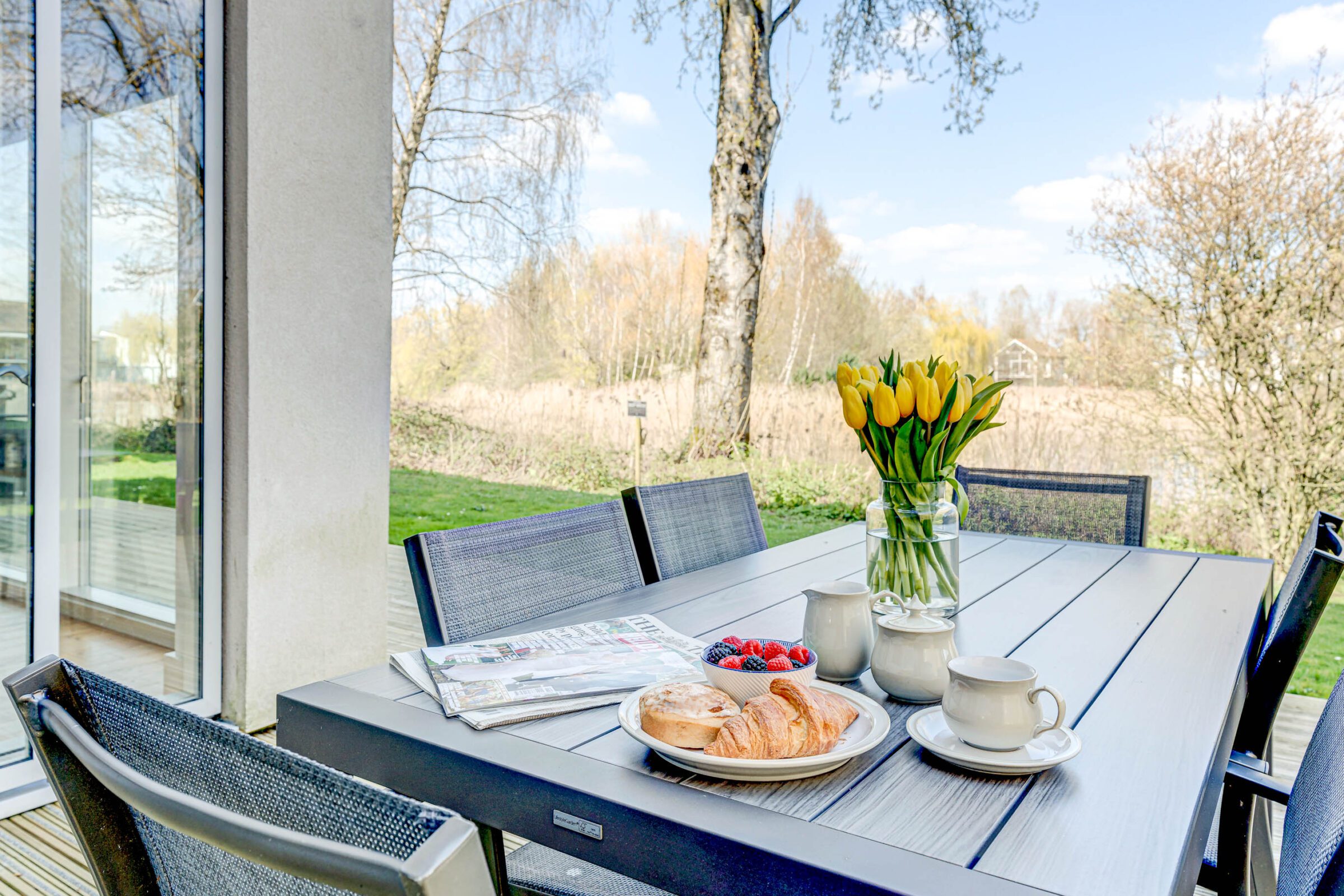 ​House main features:
Sleeps 8
Master king bedroom with en-suite
Two double bedrooms with en-suite
Twin bedroom
Family bathroom with shower over bath
Gigaclear – Ultrafast Fibre Broadband for rural Britain
Private Parking
Activity Hub – on-site watersports equipment hire, delivered straight to your door!
Accommodation includes:
Large open plan living area on the ground floor comprising of a well-equipped kitchen, spacious dining area and living area. An additional comfortable seating area overlooking the lake
Built in fridge/freezer, dishwasher, washer/dryer, Nespresso coffee machine and wine fridge
Plenty of cloakroom space and separate downstairs loo
Highchair and Cot
Office area
Wood burning Stove
Open plan non-slip outdoor decking area with outdoor seating for 8 and a BBQ
Dog allowed on request – please contact Cotswold Sleeps
Free access pass to the on-site luxury Spa, with slate lined 20 metre indoor and outdoor heated pools, outdoor plunge eco pool, steam room, sauna, fully equipped gym and treatment rooms for a range of massages and spa beauty sessions.
Lower Mill Estate also has two tennis courts, two children's play areas, a soft play area and 450 acres of private nature reserve with lakeside walks and cycle routes. Wildlife includes over-wintering wildfowl, otters, owls, bats, deer, and the first European Beavers to be introduced in England.
Back to all holiday properties
Dunnock House Pricing & Availability
Your widget will appear here.
(please enquire if you would like different start/end dates)
Dunnock House Reviews
"super well equipped house"
We had a great week, enjoyed all the facilities and staying on a lovely site, in a super well equipped house – Jul 2023 CJ
"Another lovely relaxing week at Dunnock House"
Another lovely relaxing week at Dunnock House. Swimming every day. Beautiful, well equipped house. Great family space. If you don't mind a 20 minute drive, the Egypt Mill in Nailsworth for food is to be recommended! Jul 2023 MP
"food at on-site restaurant (Ballihoo) is very good!"
Had a lovely time, wonderful house. Immaculate & well equipped! Fishing was bad, perhaps unlucky? Local sculpture park is excellent and food at the on-site restaurant is very good! Jun 2023 CH
"Great comfy beds and extremely clean"
Really enjoyed our weekend in Dunnock House. Lovely house, lots of room, great comfy beds, bed lined and fluffy towels. Extremely clean – much appreciated! Kitchen very well equipped. Can't wait to return. Love the patio, lots of fun or the kids to run around and love the ducks, swans and geese – May 2023 JR
"super fluffy towels, good quality linen"
Many thanks for a great stay in this well appointed house. Super fluffy towels, good quality linen, beds 5*. Spotlessly clean. Well done! Lucky with the early spring weather to get out and about using the facilities & local restaurants etc. Plenty of equipment for self catering – Apr 2023 BM
"Would recommend highly!'
Really great stay – children enjoyed canoeing, football, tennis, swimming & Walks. Would highly recommend! – Apr 2023 ID
"there are very few adjectives that can describe how wonderful Dunnock House is"
AMAZING, AMAZING, AMAZING. Actually, there are very few adjectives that can describe how wonderful Dunnock House is. Exceptionally clean and to reiterate what other comments have included – 'so well stocked' and 'home away from home'. An absolute delight to have stayed in such a wonderfully maintained, gorgeous house/home – Nov 2022 DW
"100% excellence to all your cleaning staff"
Absolutely everything was to our satisfaction and more! We had a wonderful week staying in Dunnock House and the whole family wholeheartedly agree it was one of the best houses we have ever been able to rent for the 8 of us. Personally, for myself, it was the cleanliness – 100% excellence to all your cleaning staff, they do a brilliant job. Cannot fault anything with Dunnock House and especially your kind and helpful assistance – Nov 2022 DW (2nd review!!)
"really lovely house"
Had a wonderful time. A really lovely houses – Oct 2022 GR
"a lovely setting"
A great place for our family reunion, 55 of us from all over the World. A lovely setting, hope to come back soon – Sept 2022 SG
"large site with plenty of activities"
Well equipped house with lovely surroundings. It is a large site with plenty of activities and a lot to do. Additionally daily wake up call from 18 ducks which dad and family loved! – Aug 2022 AB
"Superb location and lots to do"
Beautiful house and well equipped. Superb location and lots to do. Children thoroughly enjoyed pools and bike rides. Would recommend to friends and family – Aug 2022 JB
"Great family space"
Beautiful, best equipped house in lovely location. Fab pools to swim in, great walks. Great family space – Jul 2022 MP
"Happy to recommend and would revisit"
Lovely house, well equipped. Really great location. If you want a family day out visit Cotswold Country Park and Zoo – approx 30 mins drive. Happy to recommend and would revisit. Some great lake walks – Jun 22 LD
"Great time for a 50th weekend"
We had a great time for a 50th weekend, lovely and relaxing! The views are lovely, lovely walks. Kitchen well equipped! Plenty of room for us 9 🙂 Will definitely come again! – Jun 22 CM
"welcome basket was lovely & so thoughtful"
We had a fabulous week. The house is stunning & very well equipped. The welcome basket was lovely & so thoughtful – thank you! – May 2022 SW
"Look forward to coming back"
Wow! Thank you so much we all had a wonderful few days away, spending time as a family celebrating a birthday. The house is beautiful, immaculate and very well stocked. We enjoyed walking, some went running, the spa, tennis and Ballihoo. Bourton was a lovely day out. Look forward to coming back x – Mar 2022 JT
"spacious, spotless and lovely views across the lake"
After a stressful journey down here in Storm Eunice we were rewarded with this beautiful house: spacious, spotless & lovely views across the lake. We enjoyed the pool, the walks & trips to Bourton-on-the-Water & Westonbirt Arboretum. Teens loved the firing range up the road – Feb 2022 SS
"so calm and peaceful"
Thank you we had a lovely time, so calm and peaceful especially after New Years. Thank you – Jan 2022 JH
"Perfect post pandemic catch up"
Special weekend catching up with old friends who we haven't seen since before lockdown. Perfect place to do it! Emotional to leave – Oct 2021 CC
"house and content great"
Thank you for a lovely stay, house and content great. Quiet and peaceful surroundings. Very enjoyable – Oct 2021 PC
"Lovely 60th birthday celebration"
We had a lovely 60th birthday celebration for my mum's birthday. The hosts were really helpful from the moment we booked the house. Facilities were excellent. We enjoyed paddle boarding, swimming and soft play. Thank you for a lovely weekend. We will be back! – Sep 2021 LP
"House immaculate"
Fantastic reunion and weekend away. Perfect weather, beautiful location. House immaculate, can't wait to come back again. Thank you! Sep 2021 VC
"Very enjoyable week, loved the ducks"
Excellent property, well stocked with all equipment we needed. v enjoyable week, loved the ducks. Lovely house, thank you! – Aug 2021 NF
"Blown away by the beautiful house"
Had an incredible stay; blown away by the beautiful house, the beautiful surroundings, and the peace and quiet was a much needed break. Hope to visit again in the future. Thank you so much for allowing us to share your wonderful home – July 2021 PW
"Beautifully clean and really well equipped for a family holiday"
We had an amazing week at Dunnock House in July. The house is spacious, beautifully clean and really well equipped for a family holiday. It was wonderful to draw back the curtains in the morning to see the lake, trees and wild birds. Although there was not always much time to admire the view as our grandchildren were anxious to greet the ducks each morning! The setting on the beautiful Lower Mill Estate was superb with restaurant, pool and park close at hand. Cotswold Sleeps staff went out of their way to help when we had a couple of queries before our visit. We would definitely visit again – July 2021 MD
"Loved the 3 ducks that came to say 'Good Morning' each day"
Such a wonderful holiday – we loved cycling, paddle boarding, canoeing & walking. Thank you so much for a lovely house – would love to come back soon! Our 2 year old loved the 3 ducks who came to say "Good Morning" each day. – June 2021 NR
"Super helpful and attentive"
Great stay at Dunnock House! The house was fully equipped and very, very clean, activities and local sites were great for all ages, and the hosts Suus and Amy were super helpful and attentive. Enjoyed it so much, we are booked to go again!" – June 2021 NM
"Beautiful house, just perfect!"
What a great location and a beautiful house, just perfect! One of the cleanest and well stocked houses we've ever been to – and we've been to many. Thank you, we'll be sure to be back! P.S. our toddler was obsessed with the doorstops! – June 2021 NM
"The best stocked holiday house we have ever stayed in"
The best stocked holiday house we have ever stayed in, you've thought of everything! We had a fab time messing around on the lakes and felt no need to leave the luxury of Dunnock House. Thank you – May 2021 MJ
"Perfect venue for daughters first holiday:
Thank you so much for providing the perfect venue for Bella's first holiday. The house and Estate are beautiful and we can't wait to return. Fabulous time all round. Thanks you xxx – June 2021 TN
"The property was immaculate"
We had a lovely week at Dunnock House. The property was immaculate and Suus and Amy were so helpful in providing all the necessary information to make for great stay. We would recommend Cotswold Sleeps – April 2021 GW
"A tranquil and beautiful place"
A tranquil and beautiful place – wonderful architecture in beautiful surroundings. Thank you for a fabulous stay – Apr 2021 CS
"Perfect escape from London and not even mixed weather could ruin the fun."
We had a glorious family stay for a few days over half term. Perfect escape from London and not even mixed weather could ruin the fun. Spent wonderful afternoons hiring bikes and cycling around different lakes and stopping to take in the sunset views. The children loved the playground – especially easy being next to the fab restaurant. Food there was good but a little slow for young children. Shop was opening as we left and looked a great new addition. Some lovely pub lunches at Potting Shed in Crudwell and Village Inn in Barnsley. Gorgeous. Also found a fab farm shop 5 minutes drive with divine meats, cakes, fresh veg and a little farm cafe with coffee and cake, while children can see little animals – Butts Farm. Finally we visited Cotswold Farm Park – 40 minutes drive but so worth it for young children. Book though! Thank you for a fabulous recharge and stay – Oct 2020 AF
"The house was even better than we imagined"
We have had a fabulous time on the estate. The house was even better than we imagined and the swimming/tennis/bikes has kept the teenagers busy. Great day trips to Bicester and Oxford – both around an hour away. Lovely walk to The Bakers Arms for a first-rate pub lunch. We'll be back! – Oct 2020 ET
"fantastically well kitted out"
Very well organised and fantastically well kitted out with every possible convenience in kitchen/ dining areas – Aug 2020 BH
"Dunnock House is a real home from home"
Dunnock House is a real home from home, we had a lovely time there, the house is beautifully laid out and is perfect for the whole family. There was plenty of room for the 8 of us and we could have family time together as well as enough space to ensure we were not on top of each other. There was also plenty of room when it was just the two of us working from here. The water park has something to keep everyone amused. Whether it is walking in the beautiful grounds, looking for interesting animals, swimming, playing on the many amenities or eating out there is so much to do. Dunnock House is perfectly placed to walk to everything the water park has to offer. The house overlooks a beautiful lake, and in the morning, you can feed the ducks they come right up to the door if you invite them!! The kids really love it (shreddies are their favourite snack). This is a really beautiful home from home. It has been such a pleasure staying here thank you for letting us stay – July 2020 DL