Beaver Brook
Perfect for families with young children, close to Spa and Restaurant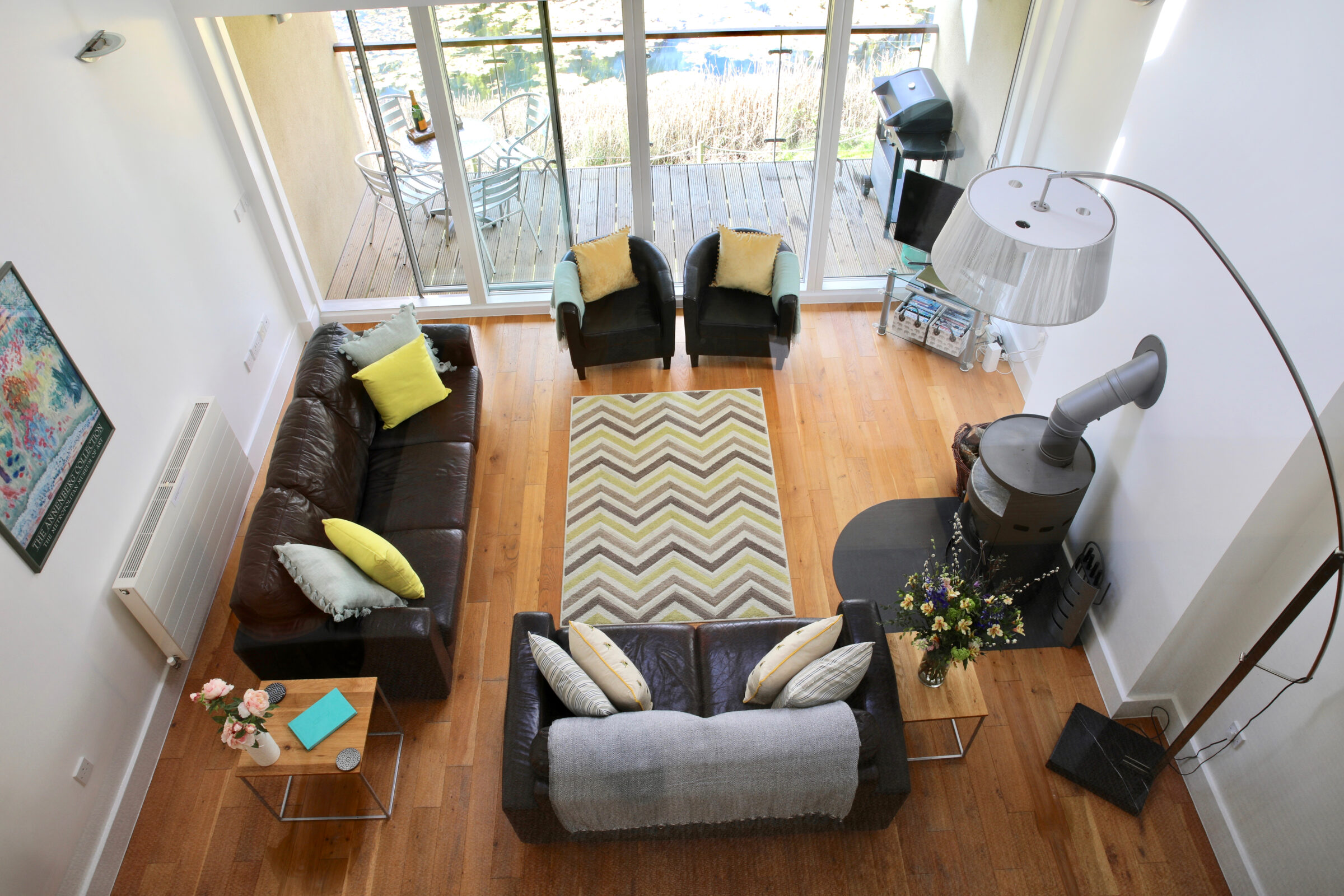 42 Clearwater, Lower Mill Estate, Cotswolds
Beaver Brook is in a terrace located just moments from the Spa and Ballihoo restaurant, overlooking a water garden with trout pool and beside one of the many streams that cross Lower Mill. Great family rental property, stocked full of baby/toddler equipment and games/books.
"Ideal home, lots of toys, close to amenities"
House main features:
Sleeps 10
Two double bedrooms with en-suite
One further double bedroom
Two bunk bedrooms (one of the bunk bedrooms is only suitable for one adult OR two children)
Family bathroom
Super-child friendly with lots of baby and toddler equipment, toys and games
GigaClear – Ultrafast Fibre Broadband for rural Britain
Private Parking
Activity Hub – on-site watersports equipment hire, delivered straight to your door!
Accommodation includes:
​Large open plan living/dining/kitchen area on first floor with impressive vaulted ceiling and overlooking the water garden
First floor balcony and decked/lawned area at ground level
Fully equipped kitchen with breakfast bar
Wood burning stove
Contemporary furniture throughout
Flat screen TV with VCR/DVD and Freeview box
Bluetooth speaker
Nespresso coffee machine
Three cots (one wooden, one travel, one travel with integral bassinet), two high chairs, potty, changing matt, steriliser, baby gym etc
Free access pass to the on-site luxury Spa, with slate lined 20 metre indoor and outdoor heated pools, outdoor plunge eco pool, steam room, sauna, fully equipped gym and treatment rooms for a range of massages and spa beauty sessions.
Lower Mill Estate also has two tennis courts, two children's play areas, a soft play area and 450 acres of private nature reserve with lakeside walks and cycle routes. Wildlife includes over-wintering wildfowl, otters, owls, bats, deer, and the first European Beavers to be introduced in England.
Back to all holiday properties
Beaver Brook Pricing & Availability
Your widget will appear here.
Beaver Brook Reviews
"The perfect venue and house for a family holiday"
The perfect venue and house for a family holiday. The host, Suus, really helped with all the pre holiday planning and the children loved all the toys and puzzles plus the on-site swimming, playground, trampoline, kayaking, cycling and fishing. Would definitely recommend – Apr 2022 SJ
"perfect house for all of us"
Perfect house for all of us! (6 adults and 3 children). Children loved the bunk beds and the swimming pool. Great location, would love to come back. Great stay x – Apr 2022 RM
"Thanks so much for an excellent new year break"
Thanks so much for an excellent New Year break. The house was perfect for our family of 8 (4 adults and 4 kids). We loved the surroundings, the pool & the house was really well equipped 🙂 – Dec 2021 AD
"The house is excellent and provided the children with all they needed"
Thank you for a great week. A holiday of two parts – firstly the noise and activity of two young grandchildren; followed by a much calmer house and visit to local attractions. Lucky with the weather and we enjoyed the walks. The house is excellent and provided the children with all they needed – Nov 2021 MH
"Even better than we imagined"
Suus & Amy at Cotswold Sleeps really looked after us and were super helpful in the lead up to our holiday. They responded to our questions quickly and nothing was too much trouble. The house was exactly as described and even better than we imagined with everything a family with young kids could want! The on-site facilities were fantastic and we really made the most of these especially the swimming pools and tennis courts. The soft play was a nice bonus for the one rainy day – Sep 2021 BS
"Especially loved all the books"
Thoroughly enjoyed our stay. The house is well equipped. Our little boy especially loved all the books. Lots to do here and we were very lucky with the weather. Thank you 🙂 – Sep 2021 NM
"So many children's toys & books for the kids"
A brilliant stay. Lovely to have so many children's toys & books for the kids. A great site – with all the on-site facilities. Thank you – Sep 2021 BS
"Enjoyed walks, swimming and kayaking"
Have had a lovely week. It is the first time we have all been together for a long time. Have enjoyed walks, swimming and kayaking, with the added bonus this week of the Olympics coverage – Aug 2021 KG
"So much to explore and do"
Thanks for a brilliant stay. Super house and so much to explore and do. We were so lucky with the weather but the boys loved all the toys and games during down-time! June 2021 TF
'Thank you for providing a lovely home from home for us all'
A lovely stay – thank you for providing a lovely 'home from home' for us all. Loved everything. Only thought would be to ask the park for basketball hoops and for the house to have an additional clothes airer for lots of washing (4 kids makes a lot of swimming stuff)! Loved it all and will defo come back 🙂 – June 2021 SH
'This is our third stay there, and we were delighted, as ever'
We have just come back from another splendid weekend in Beaverbrook on the Lower Mill estate. This is our third stay there, and we were delighted, as ever. The house is beautifully furnished, with plenty of space and rooms if you are staying in a group. (However, because of Covid-restrictions, we were unable to do so on this occasion). The estate is just glorious, and we really enjoyed taking a leisurely walk around the lake, after spending the mornings in the swimming pool. We finished our walks with a drink at Balihoo – a perfect way to spend a weekend break! It really is such a wonderful place to stay, and I would thoroughly recommend it to anyone wanting a laidback break with friends and family in beautiful surroundings. Special Thanks to Suus at Cotswold Sleeps, for all her help – May 2021 BS
"Superbly equipped in general"
We stayed at Beaver Brook and had a lovely time with our two children. The house is superbly equipped in general and has many nice touches if you have young ones. The facilities on site were great and you will not be disappointed. Many thanks to Cotswold Sleeps in arranging this holiday and we look forward to returning one day – April 2021 TC.
"We had the absolute best time"
We had the absolute best time. It was our first family holiday. We have 2 boys and they haven't stopped talking about their holiday house. So, thank you for your help in organising such a wonderful time away – Sept 2020 BA.
"Ideal home. Lots of toys. Close to amenities"
3 children 1, 2 and 5. Ideal home. Lots of toys. Close to amenities. Mill Village Pool best. Great time – August 2020 LH
"Thank you for a fabulous stay – we've enjoyed so many parts"
Thank you for a fabulous stay – we've enjoyed so many parts – particularly nice meals at The Rectory and The Potting Shed where service and food were brilliant. Kids loved the pools, bike rides and playground and the house was left very clean and tidy. It was our second visit (we stayed at Beavers Retreat in 2012) and we will definitely be back! – August 2020 SD
"Our girls loved the Miss Mouse Adventure Trail!"
Thanks for a really lovely stay. We especially liked Cotswolds Beach and our girls loved the Miss Mouse Adventure Trail! – July 2020 LS
"A lovely house with everything you need"
A lovely house with everything you need for a group weekend away. Great country walks and a lovely spa on hand make it extra special – GS
"It was clean and well equipped"
We had a lovely family break at Beaver Brook house and it was a great location for the on-site pool, soft play and restaurant. It was clean and well equipped as well as providing easy access to explore the local area – CC
"We struck lucky at Beaver Brook!"
We struck lucky at Beaver Brook! Fabulous venue for a weekend get together. Five stars for the spa pools, cold plunge a must for all – RS
"A real sense of freedom"
We loved our visit to Beaver Brook, thanks very much. It was a particular success for us because our children were able to enjoy a real sense of freedom on their bikes for the first time ever. And you can rest assured, I have already recommended it to everyone who has asked after our holiday! – LD
"We had a fantastic weekend in your house"
We had a fantastic weekend in your house. Everything worked out incredibly smoothly for my family and we only managed to leave the estate once because everything we needed was on our doorstep which was great – FC